On last Saturday ,02 / 10 /10 , in the morning , i sms
Jiayeen
to wish her happy graduation day ! Then she reply me saying that let's go sunway pyramid after her graduation . Then i suggest we go lunch there . So the plan is meet at Pyramid at 1 pm . Then i also tag along
Tony
,
Edwin
,
Xiao Tong
,and
Adrian
for lunch . As i got replacement class , i went to my uni at about 8am, as my replacement class is at at 8.30pm . I reach uni , found the class , but the door is locked , and there's no people inside the classroom . So , end up i online at my uni till 12.15pm , then off i go to Pyramid . Reach there , park , then i go to Sunway Pyramid Convention center to find
Jiayeen
as she having her CAT graduation at there .
Jiayeen
with her awesome graduation gown
Congratz to
Jiayeen
! She's now a CAT graduate holder .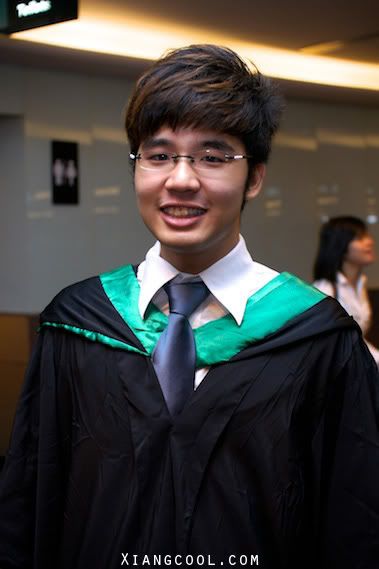 Congratz to
Xiangcool
too ! A CAT graduate holder .
I met
Mann Baby Ruii
also , another CAT graduate holder . Congratz to her ! But no photo taken . lol
At first ,
Jiayeen
want to join us for lunch , but her eyes pain , and she got free graduation lunch . So , she didn't join us at last . Luckily she didn't join us . *inside story* .
So , i wait for
Tony
,
Edwin
,
Xiao Tong
,and
Adrian
to reach Pyramid , then we went to Popeye's Louisana Kitchen to have our lunch . We eat lunch , chit chat and gossip .Always have fun with them .
Then , at around 4pm , we go to Sunway Pyramid Main Entrance as there were AOD Drama - No Regret TVB Artiste Meet & Greet Session . Fala Chen and Wayne Lai came . Photo speak more than words , i shall let you all see some photo from the event .
The Host - 988 D.J Royce
Interviewing the artiste
From left : Wayne Lai , XXX , Fala Chen